Monday, June 29

Music you should buy:



DJ Ayres, Tittsworth, DJ Eli, A-Trak & Bamabounce

Ultimate T&A is the new EP on me and Tittsworth's label. It's all Baltimore Club remixes of funky 70s jams from the likes of Stevie Wonder, James Brown, Jimmy Castor Bunch and more.




DJ Too Tuff - The Wreckshop Mix
(Look for the Buy Now button under About DJ TOO TUFF on the right side)

Listen: http://www.zshare.net/audio/2469873300b099/

Cosmo wrote a page in Wax Poetics about a Tuff Crew 12" about a year and a half ago and their DJ, Too Tuff, got in touch with him and came to see us play with A-Trak in Philly. Since then he's started to make a comeback. Dude was a really innovative DJ in the 80s and this mixtape, made in 2007 but featuring mostly raer hip-hop from the late 80s / early 90s, is fucking phenomenal. I don't know most of the music on here but it's all really really good.




Neighborhood Romeo EP

Listen: http://www.turntablelab.com/assets/audio/20936/178884.ram

This is an EP of Disco edits by Smalltown Romeo aka Wax Romeo aka Neighborhood Romeo and it's on some Metro Area 2007 shit, sort of reminds me of some of the stuff Eli is doing.




Sinden & The Count of Monte Cristal - Beeper 12"

Listen: http://www.turntablelab.com/assets/audio/20933/178952.ram

I've been playing this one everytime I DJ for the last 4 months or so. For my money it's the best song of the year so far. Drugs, Drugs, Drugs, Drugs.




Speaker Junk - Foxxy 12"Listen

Trevor Loveys (1/2 of Speaker Junk, formerly 1/2 of Switch) is playing with me and Walter Meego and James Fucking Friedman at Hiro Ballroom this Tuesday July 3rd at Kurrupt aka The Rave Pt 2. Foxxy is a fairly straight ahead house remix for Jimi Hendrix "Foxy Lady" but it's a fucking workhorse. Such a perfect breakdown. If you dig the wobbly house stuff, Organ Grinder (Loveys & Sinden) dropped last week and it's pretty crazy too.


Friday, June 22



Cosmo just dropped a new summer mix called Feeling Good. Download that for free here.

I'm in Montreal and DJ Eleven is in Texas this weekend but there are a bunch of things going on in NY including the first McCarren Park Pool Party, outdoors and free in Williamsburg / Greenpoint. We're djing at four of the parties this summer starting July 8, and the lineups are all great. Check the whole schedule here.
-Ayres


Wednesday, June 20

New 3 hour Rub Radio streaming on Scion's broadband internet radio. On future shows, we'll have interviews with Ghostface, Chromeo, A-Trak, Andy Smith, Jazzy Jeff and a whole lot more!



New Press: The Rub in Envy Magazine

Ayres and Tittsworth in Swedish Paper


Monday, June 18



Scandinavia was really nuts. The Rumble in Malmo in particular was just an incredible party - I don't think I've ever seen that many people go nuts to Baltimore Club in my life. To give you an idea, the biggest song of the night was DJ Class "Stop Snitching!" All the parties were great - shout out to Sampo in Helsinki, Jaywalker crew in Oslo, Jonny and Sanna, Saurabh and my man Stefan in Stockholm and of course Sweet Fred and the Discobelle crew in Malmo. Tittsworth murdered it everywhere we went, and I just tried to keep up! We literally didn't sleep at night the whole time we were there, just a few afternoon naps to battle the 21+ hours of daylight everyday. Helsinki photos here, more photos coming. So now I'm home playing catch up for a few days, then heading up to Montreal on Friday.


Saturday, June 9



Still going on the old tapes! Here is a classic Big L tribute mix from Radio 1 in 1999. Max Glazer (Federation) on the mix, Tim Westwood on the mic. Big L was an incredible rapper and was just about to blow up when he was killed. I was always a huge DITC fan growing up and I felt like Big L really took the styles pioneered by Lord Finesse to another level. It really hurt when he was murdered, it felt like losing a friend. Especially because, as Max said, Big L was a genuinely good person on top of being a great artist. Big L R.I.P.


Thursday, June 7


Ayres & Tittsworth on MTV in Canada
YouTube link / Daily Motion link

Ayres & Tittsworth mixin it up for Discobelle (free download)

Ayres and Tittsworth live in Sweden, Finland and Norway next week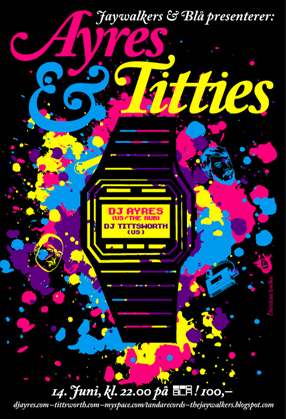 Saturday, June 2



More Kid Sister pictures, this time by Scott Furkay.

Also - The Rub is tonight! With Haul & Mason! Get there early (11ish) to avoid a long line.


Wednesday, May 30



Photos from Shirts and Skins (The Rub & Kid Sister) by Ian Meyer

More photos from Shirts and Skins, by Ward


Tuesday, May 29



PF Cuttin - Da 4 Oh (download side a) (download side b)

I'm gonna keep putting up old tapes as I have free time. This is one of my favorites, from PF Cuttin. He is the dj and producer for Blahzay Blahzay (any hip-hop head worth his salt remembers the mid-nineties hit "Danger" "when the East is in the house, oh my god, danger!"). Anyhow I don't have the cover anymore but this must have come out in 1997 because he starts it off with an exclusive from Wu-Tang Clan's second album. PF Cuttin is a beast with the doubles but he was also really ahead of his time with the drops and effects. Most DJs then weren't putting that much work in on mixtapes. I assume this was recorded with a digital hard disc recorder and not a computer - I don't think many DJs were using Pro Tools to record mixes yet since most computers didn't really have enough memory.


Monday, May 28

I run myself ragged touring and working all the time but then something big will come along and make me realize it's all paying off. This summer I'll be playing shows with Ghostface Killah, TV on the Radio, MIA, DJ Drama, Peedi Crakk and a bunch of other performers I look up to. The Rub is doing Fabric in July, which has been a goal for a really long time. I was interviewed on MTV Live in Canada with Tittsworth, The Rub just shot our first magazine cover, our internet radio show is getting 60,000 downloads a week, and we are doing guest slots on XM and Sirius sattelite radio in the next few weeks. The Rub is celebrating our 5 year anniversary at Southpaw in July. It is still so strange to me when I get stopped in the street by fans who recognize me, or asked to sign posters at shows - I really don't feel like that dude. But I'm really happy and proud of what we've accomplished so far and I'm amazed by all the opportunities that are coming along this year. - Ayres



Sean Dorgan took pictures of Tittsworth, Ayres & Zebo at Smartbar in Chicago. Scott Furkay took pictures of Tittsworth, Ayres, Wax Romeo and Smalltown DJs in Calgary. And here are all the pictures from the tour in one place.


Wednesday, May 23

Kid Sister & The Rub this Saturday at Canal Room!



Check out Kid Sister's Myspace Page for her music - this is going to be a banger!

May 26, 2007
Shirts and Skins
The Rub + Kid Sister
Hosted by Jelly NYC and Impose Magazine
Canal Room
285 W Broadway NY, NY
$10 or $8 with RSVP ([email protected])
10PM - 4AM


Tuesday, May 15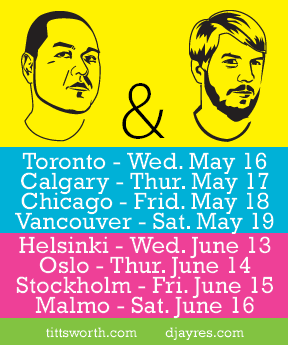 Monday, May 14

Tonight Eleven and Ayres go in heavy in a reggae fashion with Queen Majesty from 6-8pm on East Village Radio! Get ready for two hours of Jamaican music and promotion of the dancehall compilation Rub Up and CD release party at Sway - vodka and airhorns!

Rub Up CD Release Party
DJ Ayres & DJ Eleven
Hosted by Oxy Cottontail
Sway - 305 Spring St. Manhattan
Free entry + free CDs + free Vodka 10:00 - 11:30!





Friday, May 11

Ayres & Eleven quoted in an article about DJs in the New York Observer


Thursday, May 10



The Rub has a show on Scion's internet radio thing! Go to scion.com/broadband/, click on Radio 17, then click on The Rub. This is a three hour show, different from Brooklyn Radio. Our special guest is Mike the 2600 King.


Monday, May 7

I've been digging out old tapes lately.



Side A / Side B
This is one of my all-time favorite mixtapes, by NYC's DJ Daze around 1999. Tracklist here. I had Volume 1, which was also bananas, but I lost it. If anyone has it please email me: [email protected]

Here is another great mix, Roctakon - The Good Life. - Ayres


Sunday, May 6



New Pictures: The Rub & Certified Bananas at Southpaw


Saturday, 5 de Mayo

The Rub / Certified Bananas flyer was flyer of the week on The Village Voice blog!


Monday, April 30

It began with a dream, and now it is consumed in fire.

Back in 1989, my best friend Julio and I got tickets to see Black Sabbath perform at the Tower Theatre in Philadelphia. After weeks of anticipation and mental and physical preparation we got ready to set out on that fateful Friday evening to experience darkness in it's truest form. We stocked up on the supplies, including a half empty bottle of Old Grand Dad and a nickel bag of brown herb - which we had nothing to smoke it out of so we resorted to coring out an apple. We rode the EL train for miles and waited in line outside of the show in the cold, dark night. Once inside, we were bombarded by the loudest and most potent sounds I had ever heard in my young life. We were witnesses to all the power and glory that is Sabbath. Forever altered, we returned to Julio's house and broke out the guitars. After a few hours of trying to perfect "Iron Man" we eventually moved on to more challenging - but not as spiritually important - numbers like "Smoke On The Water."
Fast forward to the summer of 2006. Sabbath was in the air again. It had never left but at this time it seemed to be permeating through the collective consciousness of "the people." After weeks of publicly declaring my allegiance to Sabbath and insisting that we must take this one step further, together with Matt So Real, Sabbath In The Park was born. What was just a natural progression to us metamorphosed like pupa to chrysalis to moth. The flames burned a little hotter that night. Something was summoned that none of us could have expected, from both a deep dark place and from within ourselves. The spirit was now alive, MAD BEER was in effect, and it was going down, dudes.
After several successful events across the continent, facing and beating "The Man" (proving once and for all that the Power Of Sabbath is too much for man's puny "laws") and gaining devotees from all over the globe, we are now pleased to present SABBATH WICKED MIX 666. Recorded live amongst the throngs of evil and including special guest commentary from Austin's SXSW festival, come with us and live the dream, and bask within the fire of Sabbath.

- Cosmo Baker


Thursday, April 26

The Rub is in Manhattan on Saturday, Boston on Tuesday and Brooklyn next Saturday, and I'm solo in Chicago tonight and Cleveland next Friday. - DJ Ayres
This past Sunday's Baby Loves Disco at Central Park was incredible. It was close to 8,000 people, on The Great Hill at 106th St. Everyone was jamming, the sun was just POPPING and it was the perfect temperature. It pretty much was "THAT ONE DAY" in springtime that everything just comes together and makes everyone say " everything is going to be alright." Hosted by Tah Frum Da Bumrush and featuring me and DJ MoMa spinning the classic tunes, the entire crowd was with us in the groove. At one point this little girl got lost and we had to stop the music so that we could emphasize the importance of trying to locate her, and at one point everyone in the crowd was calling her name ("Madeline") in unison. We found her and there was an enormous roar from the crowd, at which time I played Stevie Wonder "Don't You Worry Bout A Thing." I ended the show with " Ooh Child" and some guy got onstage and proposed to his girl. She said yes and the crowd erupted again.
I then walked from Central Park to Houston Street, just soaking up the New York springtime. Amazing.

- Cosmo Baker

Tuesday, April 24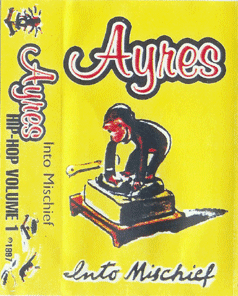 Just put up a bunch of old mixtapes from the 90's:
http://www.djayres.com/oldmixtapes.htm


Wednesday, April 17



Rub Up is available on the store page! Double disc of classic Dancehall Reggae party joints mixed properly - all those songs you know but don't know who sings them, from the crates of Ayres and Eleven.

Monday, April 15



Junior Parker - Taxman


Saturday, April 13

Some pictures from Thursday at Studio B:
Last Nights Party
Ian Meyer
Also check out Ian's Photo Blog

Wednesday, April 11



Pictures of The Rub (4/7/07 Southpaw) by Ian Meyer


Monday, April 1



Pictures of The Rub & Shy Child at Shirts & Skins (3/31/07 Canal Room) by Ian Meyer


Thursday, March 29, 2007



Cosmo writes about Miami (photos here):

Fresh off of the crazy week before in Austin, we hit Miami for WMC and we hit the ground running - within 5 minutes of checking into our hotel we were upstairs at the Scion Penthouse party listening to Richard Dorfmeister playing some deep groovy house. Oh, it's going to be THAT kind of week, Miami? We're ready...

We were supposed to play a party Wednesday evening for our boys from Paperstreet at Nikki Beach Club, but it got rained out. While Ayres was smart and caught up on some rest, Eleven and I went to Shore Club for the Frank 151 party, with a special performance by Blowfly, and later on we went to see Jazzanova & Bugz In The Attic. A good way to end the night, as well as to start the week.

The next day, after doing an interview with Andy Smith (of The Document/Portishead fame) we got ready for our set at The Penthouse. It was a small room on top of the Raleigh Hotel which is right on the ocean, so it had a beautiful view and set the tone for us. The three of us dudes rocked the spot, setting the tone for Andy Smith to completely obliterate the room by playing funk 45s, British hip-hop and classic ska records from the 60s. I would have official declared the game over, but after Andy came some super heavy sets by the headliners, Justice and MSTRKRFT. That "heavy heavy" sound would become a running theme throughout the conference, like when we went to see the Ed Banger crew the next night.

We jetted out of the Raleigh over to The Delano to attend an exclusive dinner set up by Giant Step and Levis/The Fader honoring the Mizell Brothers. Not only were Fonce, Larry and Rod there, but there were 50 other attendees at the quiet and civilized dinner - all people who really make shit happen. Jazzy Jeff and I joked about it the next day like "Good thing someone didn't drop a bomb on the hotel at that time, several generations or legendary musicians would have been wiped out in one fell swoop." But all in all it was an amazing, humbling and unforgettable experience. More info about it can be found on that here. Here's the one photo I took, me and Danny Krivit. Phillip Angert took some great photos - look here.
Thursday night we spun at the Turntable Lab party with all of our extended fam from The Lab. It was good to have everyone from all over in the spot at one time. Unemployed Lloyd, Woody, Blu Jemz, Roger Yamaha, Alex XXXChange, Roctakon, Egg Foo Young and Chromeo all murdered it on the turntables.
Friday, Ayres and I set out on the yacht that Scion was having it's Jazzy Jeff/Masters At Work party on. Ayres spoke on it some over here - it was a great afternoon. The first day it hadn't rained and again it was an intimate setting, so you could party or you could chill. Things came to a head when Jazzy Jeff dropped War's "Galaxy" at exactly 6:30 and that throbbing bass line kind of rippled through the crowd on the top deck, instantly engaging everyone. Then when Lil Louie Vega dropped the Todd Terry dub of Cajmere "Brighter Days" exactly at 7pm it electrified the crowd, and personally brought me back to 1992. Hearing MAW play cuts like Harddive and La India's "River Ocean" really was perfection. Like Monk One said to me at the time, "It's amazing to think about these particular songs being play right now, because for the most part they've been played out and you don't really want to hear them in the club. But the fact that they're being played right now by the people who made them, that's totally on another level.

Later on that night, Ayres, Dante Ross and myself went to go see the Ed Banger dudes at Studio A. I'll let the photos on Dante's blog speak for themselves.
Saturday we went and DJ did some quick DJ sets for Mackie at the Remix Hotel. Our "opener" was Roy Davis Jr. He didn't play "Gabrielle" (which would have blew my mind) but he played an inspiring set and we were honored to have been able to play after him.
That night we held our Rub party at Shore Club and it was great. We only got a chance to set it up with a few days notice, but it ended up being exactly what we hoped - a nice fun party outside at a beautiful location that all of our peoples could come out to and enjoy themselves. DJ Mr. Supreme played the first 2 hours of the evening and it was the best set of the music conference in my opinion. While all our folks grooved pool-side, the homies from The Bay Sake 1 and J-Boogie got it popping in the Red Room inside.

Sunday was at first deemed "recovery-mode Sundays" but after we all got some Cuban sandwiches in our bellies, it quickly turned into "Love Is In The Air Sundays." We had on last night in Miami and with our friends Smalltown Phil and Steve, and our boys Jake and Contra, we took it all the way home. We had been "One More Day-ing" it for about 2 weeks so the family affair we did that night was the perfect capper on the past 2 weeks. Without a doubt, Love Is In The Air.

Big shout outs to everyone who we worked, chilled and partied with over the course of those 5 days; shout outs to everyone we kicked it with, DJed with, everyone who hooked us up with guestlists and food and drinks and gear! DJ Haul, Andy Smith, DJ Hier, Jeri, Jason, Ian, Dana, Matt, Kelly Mccaully, Sheri, Ben, Tommy Up, Jay Simplefly, Thane, Jessica Webber, Lindsey, Myles, Language, Dante Ross, Jazzy Jeff, Kenny Dope and Louie Vega, DJ Mehdi, Busy P and the whole Ed Banger crew, MSTRKRFT, Justice, A-Trak, Chromeo, Craze, Jen Lyons, Blu Jemz, Roger Yamaha, Egg Foo Young, Roctakon, Lloydski, Jasper, Pete, Anthony and the whole Turntable Lab crew, XXXChange, Spankrock, DJ Mr. Supreme, Flosstradamus, Pase Rock, Fort Knox 5, Smalltown DJs, Johnny G, DJ Contra, Franki Chan, Justine D, James Friedman, Andre and Dennis from Wax Poetics, Monk One, Lily from Seed, Roxy, Jake, DJ Ammo, Edski, Roy Davis Jr, Vikter Duplaix, Sake 1, J-Boogie, Small Change, Synapse, Giles Peterson, Spinna, Danny Krivit, Madlib, Wajeed, Peanut Butter Wolf and the whole Stones Throw crew, Egon, Fonce, Larry and Rod Mizell, King Britt, Maurice Bernstein, Daniel Best, Daz-I-Cue, Nickodemus, Malente, Ben Wyatt & Tracy Thorn, Lumin, Steven Gerstein, Anthony Shippoli. Damian, Geology, Benji B, Aloe Blacc, Sal, Rob Weinstein, DJ Lady Sha, Killer Kela, Jesse, Tom Laroc, Tyler from HVW8, Rob Wonder, Steve Malbon, Fancy, Ronnal Ives and DJ Tone from Mackie, Shelly Rootz from Audio Agent, Taayib, DJ Avee, Rich Medina, Mark B and the ATC crew, Lord Sear, Josh from Shore Club, Rob Weinstein, Carlito, Jess Jubilee, John Trepp and big up to anyone who may have been left off this list. See you all next year.





Tuesday, March 27, 2007



The Rub in Clark Magazine (France)


Tuesday, March 27, 2007

We just got back from Miami last night and we're diving right back into it, with an Open Bar party tonight at Webster Hall, DJ Eleven & Scott Melker's weekly Thursday at Gallery, our new Friday residency at Lotus, and Shirts and Skins with The Rub and Shy Child Saturday at Canal Room! Check out Ayres blogging about the Jazzy Jeff / Masters at Work yacht party on The Fader, The Rub talking about the Hip-Hop History series on Brooklyn Radio, and another interview in Serie B, straight outta Spain! Full Miami wrap-up coming soon, some pictures up now.


Tuesday, March 20, 2007

Pictures and commentary on The Rub, A-Trak & Kid Sister at SXSW up on The Fader blog. Photos from SXSW by Ian Meyer, Mike 2600 King, Drink Moloko, Catchdubs. Super-short video here and here. New Rub interview and radio show at Brooklyn Radio.net (History of Hip-Hop Series). We're in Miami all weekend at Winter Music Conference - party dates here.


Sunday, March 18, 2007



SXSW 2007, Austin TX (good photos by Ian Meyer, crummy ones by Ayres & Eleven)

SXSW festival last weekend was a tremendous amount of fun. There's nothing like hanging out with friends from all over the world in 70 degree weather, seeing countless incredible musicians and djs for free all weekend, eating great food, and partying into the wee hours. Highlights (in no particular order): Ghostface Killah, The Melvins, Federation, Redman, Amy Winehouse, SWOLL, DJ Day, Mike 2600 King, Morse Code, Diplo, King Most, Catchdubs, DJ Mel, Prince Klasson, Smalltown DJs, Flosstradamus, A-Trak, Kid Sister, Vyle, Cool Kids, Federation, UGK, Rakim, Hier, DJ Haul, Revolution, Boris, Amanda Blank, Solico, RJD2, Nasa, breakdancing, bbq and Sabbath in the Motherfucking Park. RIP IBM Thinkpad #2, all hail IBM Thinkpad #3. It's nothing!



Wednesday, March 14, 2007

We're off to Austin for SXSW!


Sunday, March 11, 2007



The Rave was phenomenal! Rain, weird door guys and a shorted extension cord could not stop the party, which raged until 7 AM. Rave til dawn for real! Huge thanks to Jen Lyon, Sinden, Tittsworth, Star Eyes and all the ravers for making it happen! It's unanimous - The Rave 2 has to happen. Photos here by Ian Meyer.

Thursday, March 8, 2007

Oh man it's time for The Rave! Our man Sinden is coming all the way from London to smash the East Coast with a gig in Philly Friday and headlining slot at The Rave in Brooklyn, along with Star Eyes, Pase Rock and Tittsworth. We're also spinning with Tittsworth Friday night in DC, alongside Smalltown DJs and Fort Knox Five. Plus me and Tittsworth just released our Bmore/Miami battle record, T&A Breaks. That's a lot of Titts! I put together a little megamix using T&A Breaks and played it Friday on East Village Radio - click here to download that show and check the tracklist here. And if The Rave is too rich for your blood, tonight we're at Sputnick with Red Alert, Evil D, Tony Touch, Nice & Smooth & more for Vic Black's birthday. Mandatory RSVP to [email protected], [email protected] or [email protected] It's the real...


Thursday, March 1, 2007



T&A Breaks Out Now at Turntablelab!
This is a new battle record, by Ayres & Tittsworth on A-Trak's Ammo Records. The format is Baltimore Club beats and breaks and samples and chops on one side, and Miami Bass loops, samples, acapellas, and 808 bass on the other side. Everything is at 133.3 BPM for mixing in matching.



Archive: February 2007

The Rub Party & Tour Dates .