Wednesday, December 31

To help you bid adieu to 2008, we put together 2 hours of our favorites jams of the year. Download, listen, and memorize. There will be a quiz later!

http://therub.crewcial.org/The_Rub_2008_Part_1.mp3

Q-Tip - Gettin Up
Erykah Badu - Soldier
The Roots ft Wale & Chrisette Michelle - Rising Up
B.o.B. - I'll Be In the Sky
Jadakiss ft Ne-Yo - By My Side
Lloyd ft Lil Wayne - Girls Around The World (DJ Ayres Blend)
Big Boi ft Raekwon & Andre 3000 - Royal Flush
Rick Ross ft T-Pain - The Boss
T-Pain - Can't Believe It (Benja Style Blend)
Movado - Am So Special
Serani - Play It Straight
Mavado - Money Changer + Get Money Remix
Lil Wayne ft T-Pain - Got Money (DJ Ayres Blend)
Stephen & Damion Marley - The Mission
Santogold - Creator
Ludacris ft T.I. - Wish You Would
Bun B ft Lil Wayne - Damn I'm Cold
Young Jeezy - My President
Big Tuck ft Trae & Slim Thug - Not A Stain On Me (Houston remix)
John Legend & Andre 3000 - Green Light
Tittsworth ft Pitbull & Nina Skye - Here He Comes (DJ Day remix)
Busta Rhymes - Don't Touch Me
Robin Thicke - Magic
Estelle - Wait A Minute (Just A Touch)
Q-Tip - Move
J-Boogie ft Zumbi of Zion I & Rithma - For Your Love
Raphael Saadiq - Never Give You Up
Marvin Gaye - What's Going On (DJ Day Alternative Mix)



http://therub.crewcial.org/The_Rub_2008_Part_2.mp3

Shawty Redd & Big Gipp - Drifter
Kanye West & Mr Hudson - Paranoid
Estelle - No Substitute Love (Treasure Fingers Remix)
Common & Pharrell - Universal Mind Control
Fully Fitted - 100 Million
Pase Rock - Get Money Kids (OG + Nacho Lovers Remix)
Treasure Fingers - Cross The Dancefloor (Laidback Luke remix)
A-Trak & Laidback Luke - Shake It Down
Blaqstarr - Get Your Handz Up (Nadastrom Remix)
Crookers - Big Money Comin
Fake Blood - Blood Splashing (Fake Blood Theme)
Boy 8-Bit - The Cricket Scores
Studio Apartment - I'm in Love (Rasmus Faber Epic Remix)
Osunlade ft Divine Essence - My Reflection (DJ Gregory Remix)
Surkin - White Knight 2
Nacho Lovers - Acid Life (DJ Eli Remix)
Juan Maclean - Happy House (Lee Douglas Remix)
Hercules & Love Affair - Blind (Frankie Knuckles Remix)
MGMT - Kids
Santogold - You'll Find A Way
Think Almost Twice - Chikiba
N.E.R.D. - You Know What

Monday, December 29

Rest In Peace Freddie Hubbard



Sunday, December 21


The Rub Holiday Party 2008 - Pictures by Ian Meyer



More pictures, by Culture of Me


Wednesday, December 10

Rub Radio welcomes Jesse Tittsworth to the show this month, throwing down a set of Baltimore club, rave jams and exclusive remixes, then sitting down for a deep and personal interview about food. Scorpions! Tripe! By the way, he has a new album out called "12 Steps" and it rules! Plus Ayres, Cosmo and Eleven play tons of new and classic hip-hop, house, and even some dubstep. Listen at http://www.scion.com/channel2 or iTunes > Radio > Hip-Hop > The Rub on Scion Radio 17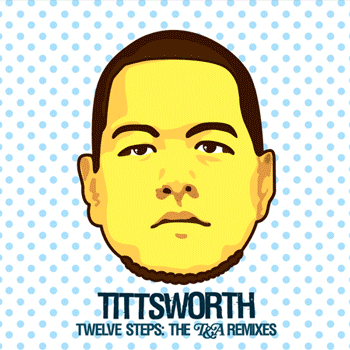 New record on T&A!
Out now - 12 Steps - The T&A Remixes
Go to TurntableLab.com for Vinyl and Digital.
Europe - order the vinyl at Juno.
MP3s also available at Amazon and iTunes

Five primetime party remixes of joints from Tittsworth's debut album on Plant Music, and you know Titts & Ayres wouldn't skimp on the remixers for this one. Melting Pot's DJ Day kicks it off with his feel-good Latin/disco/Bmore hybrid mix of "Here He Comes" with Pitbull on the mic and Nina Sky channeling Hall & Oates. Watch for the squelchy keys toward the end - glad to know Day's back at it. Meterhead follows with their take on "Drunk As Fuck" with hyphy forerunners The Federation, where they replay New Order's "Blue Monday" and whip the whole thing into an electro-80s whomper. Sammy Bananas (Fool's Gold) transports Kid Sister and Pase Rock to Spring Break '92 with his mix of "WTF" featuring a hyper "Rump Shaker" jack, while Bird Peterson puts the bassline/fidgit chop on Ludacris' "Southern Hospitality" for his remix of "Tear The Club Up 2008." Bay area producer and recent Fool's Gold signee Trackademicks closes things out with his take on "Drunk As Fuck" with an clever sample that reveals itself right at the end.

Bonus: DJ Day mashes his "Here He Comes" instrumental with Big Daddy Kane "Raw." Download it for free here.



Double Bonus: New Meterhead EP

Stream the whole EP here before you buy it:







New Ian Meyer photos from The Rub:



The Rub at The Guggenheim "Art After Dark Party" 12/2008



The Rub, December 2008


Monday, December 1


So me and Eli have teamed up like Voltron or Ten Speed & Brown Shoe, or Power Man & Iron Fist, on some new newness. A lot of things are happening and one of them is our brand new party that we're starting this Wednesday in Manhattan. For a while now we've been on some "more really good music needs to be played out the right way to really good people" and so because of that we're really going to go "all in" on this jawn.
Expect lots of disco of course. Also house music. But we're also going to be doing the damn thing on hip-hop and soul and funk as well.
Kind of like back in the day when one would go out to a club and you never knew what to expect to hear, although you expected to kind of hear everything / anything and that you KNEW it would be fresh. That's kind of like when people actually trusted DJs and would go with them on a whim... "Hmmm, I don't know this record but it's groovy and Eli / Cosmo is playing this so I have faith in my dude(s)." Dig me?
So yeah, I mean this is just the teaser type steez and the real jumpoff will be coming soon... but understand that this is official.
BANG! w/ Eli Escobar & Cosmo Baker - Every Wednesday night @ 105 Rivington St. New York. All chips are in. Expect some really crazy shit in the coming months, like some really REALLY crazy ill shit that is on some mind blown type steez. We hope to see you derelicts out.
Love,
Eli & Cosmo


Friday, November 28



Jake One just came out with a new album featuring MF Doom, Freeway, Busta Rhymes, M.O.P., Little Brother and a bunch of other great rappers. If you feel like hip-hop isn't what it used to be, you have to hear this record!



This very well might be my favorite club record of 2008. BANGS SO HARD!


Wednesday, November 18

Quarter Water (DJ Ayres and Matt Cee) EP out now at Turntable Lab!






My side is all blends which I have been playing out a lot. "Push It" over "Higher State of Conciousness," the "Face Down Ass Up" vs "Calabria" joint (extended), and Paul Johnson vs High Powered Boys "Get Down." Matty Cee goes in a little deeper with the excellent juiced up 2008 version of Inner City "Good Life," an original house tune with a bunch of samples including Jungle Brothers on "Sooo Real" (this is my favorite of the bunch), and Ralphi Rosario "You Used to Hold Me" over Mason "Exceeder." This EP is super limited edition so don't sleep.  † †
When you buy the record on Turntable Lab it comes with a free CD that has all the MP3s on it.
Buy it here: http://turntablelab.com/vinyl/217/1698/58955.html

This Friday don't miss:




and




Tuesday, November 16

This weekend DJ Eleven invades London!





Monday, November 10



http://www.myspace.com/bunbofugk

Bun B of UGK drops in on Rub Radio this month and talks about everything from Pimp C's legacy, to maintaining a level head in the music business, to his love for Massive Attack and The Raconteurs. The Rub dudes head out to Chicago to hit the studio with Willy Joy and Zebo, who give hilarious interviews and dig deep in their soul and juke crates to throw down exclusive mixes. DJ Eleven hops on the turntables with a gang of Outkast-related joints, DJ Ayres plays house music and Cosmo Baker cuts up brand new hip-hop. Listen!

http://www.scion.com/broadband/index.html?ch=1&sh=15

The show is also on iTunes now, which is a huge improvement for people who had trouble streaming it in the past. It's still streaming only but now you can access it directly through iTunes. There's two ways to do it, either put this link in your browser-

http://pri.kts-af.net/redir/index.pls?esid=9a90cabf4baaed468711c7cae63b6bb9&url_no=1&client_id=7&uid=68efed4d03ec7e45fd3978262c107180&clicksrc=xml

Or just open iTunes then click on "Radio" then "Hip-Hop" then "The Rub on Scion Radio 17"

No downloads, because Scion's legal department doesn't allow it.



http://www.myspace.com/willyjoy



http://www.myspace.com/djzebo



Friday, November 7

Don't miss this party!

Tuesday, November 11
Scion Radio 17 Party
The Rub, Sinden, Fistfight (Nacho Lovers), Catchdubs, Blu Jemz, Michna
Plan B

Speaking of Nacho Lovers...

New Jokers Of The Scene and Nacho Lovers Out Now!
It's a big day for our brothers across the northern border! Jokers Of The Scene's long-awaited Acid Bagg EP and Nacho Lovers' debut double a-side single "Acid Life / Go On" finally dropped this week as Beatport exclusives. Grab these two must-have electronic releases now! And don't sleep on the DJ Eli remix of Acid Life. Wow.
- Jokers Of The Scene Acid Bagg
- Nacho Lovers "Acid Life / Go On"
And stay tuned to Rub Radio for upcoming DJ sets and interviews with Jokers of the Scene and Nacho Lovers.


Monday, November 3

HOLY SHIT. The last couple of weeks months have been so crazy, there hasn't been much time to post here. We'll try to catch up soon, promise!



The Rub Halloween Pictures (Ian Meyer)



Flashing Lights Halloween Pictures (Ian Meyer)

RAVE-O-WEEN MIX
http://therub.crewcial.org/Rave-O-Ween.mp3
Pt. 1 - Smalltown DJs "22 Minutes of Sadness"
Say Wut - The Monster
DJ Spider - Tried By 12 (The Murdera)
Insane - Smoke n Mirrors
Evil Nine - They Live (Trevor Loveys Mix)
Jean Elan - Where's Your Head At? (DJ Klaas Remix)
Boy 8 Bit/Crookers - Ghost House (Suspense is Killing Me pt. 2)
Smalltown Romeo - Necromaniac
Deadmau5 - GhostsAndStuff
MGMT - Of Moons Birds and Monsters (Holy Ghost Remix)
Pt. 2 - DJ Ayres "Real Blood"
Armand Van Goblin - Witchdoctor
Fake Blood - Blood Splashing
Herve - Cheap Thrills
Nadastrom - Ritalin (In Your Candy Corn)
Hijack - Possesed (By Devils)
Count & Sinden - Hardcore Girls (accapella)
Tittsworth f. Diamond K - Tear the Club Up (With Scythes) 2008 (Bird Peterson remix)
DJ ScAyres - Punchemindaface Pt 2 (Angel of Death)
Big Pun - Leatherface

Tuesday, October 14

Check it out, we have a ton of new Rub Radio online right now!



This month on Rub Radio, the boys welcome two big dog special guests. The first is none other than Drum & Bass legend Photek, who discusses his career from being signed to Virgin Records in the UK at age 19 all the way up to scoring film and television in Hollywood; then he blesses the turntables with a bass-heavy DJ set. Then Rich Medina stops by to rock the party and shoot the bull in a "This is Your Life" session with Cosmo, Ayres, and Eleven.
The show is also on iTunes now, which is a huge improvement for people who had trouble streaming it in the past. It's still streaming only but now you can access it directly through iTunes. There's two ways to do it, either put this link in your browser-
http://pri.kts-af.net/redir/index.pls?esid=9a90cabf4baaed468711c7cae63b6bb9&url_no=1&client_id=7&uid=68efed4d03ec7e45fd3978262c107180&clicksrc=xml
Or just open iTunes then click on "Radio" then "Hip-Hop" then "The Rub on Scion Radio 17"



On Brooklyn Radio we have 2 new sets, both live from the Do-Over. This is one of the livest parties in LA, and both Eleven and Cosmo played there this summer. Lucky for you, they were recorded and you can download both from Rub Radio. Don't say we never gave you anything!


Thursday, October 2



Top Billin did a great little megamix of tracks from the Ghetto Pass EP and some new exclusives. Download here.

Shawty Lo: They Know
Jim Sharp: Champion Junglist
Rob Threezy: Love To The World
DJ Sandrinho: Don't Stop Till Get Enough
DJ B-Stee: Hit U Wit Another One
Top Billin: In The Ass
Top Billin: Bitch Don't Run It
Bo Bliz: Apw
Marva Whitney: Unwind Yourself
DJ Sega: Everybody Handz Up
Tittsworth: Thunderstruck
DJ Technics: Everything beatdown mix
DJ Technics: Everything supa mix
DJ Technics: Everything fx mix

Buy the Ghetto Pass EP on vinyl at Turntable Lab and fine record stores worldwide. Digital download available at Turntable Lab, iTunes,


Monday, September 22

In commemoration of the release of Raphael Saadiq's latest album"The Way I See It" I'm pleased to announce the release of my brand new CD... Cosmo Baker Presents "Genius: The Sound Of Raphael Saadiq"




I'm from Philly and of course you know us folks from the 215 have a rich history in soul music. On top of that, Philly was one of the epicenters of the great "neo soul" movement of the 90s and beyond. Of course Raphael embodies all of that, so of course when I had the opportunity to work with material from someone who I consider one of the greatest living artists today in the world, I jumped at the chance.

When I was talking to The God Rehani and I was telling him about this mix and about Raphael's new album he was incredible enthusiastic. And, as someone who has worked with him on music, the first words that came out of his mouth were "Genius. That man is a genius." At the time I had been struggling with coming up with a title for the mix, but the term "genius" immediately struck a chord with me. I also had been struggling on how to actually make the mix considering that there's so much material out there that the man had his hands directly on. What to include, what to cut, the decisions were excruciating, and if it were up to me I would have made this a 5 CD box set and still wouldn't have had enough space to include everything.

This mix is a representation of Raphael Saadiq's sound - from the early days of Tony! Toni! Toné! through his solo work and the neo-soul era, to his latest endeavors - including music from his latest album. Solo records, collaborations, guest appearances, productions, remixes, exclusives and more... I hope I did Raphael some justice.

Tracklist:
Charlie Ray Intro
Raphael Saadiq "Still Ray"
Erykah Badu "Love Of My Life (An Ode To Hip-Hop" feat. Common
Raphael Saadiq "Never Give You Up" feat. Stevie Wonder
Earth, Wind & Fire "Work It Out"
Joss Stone "Music" feat. Lauryn Hill
Devin The Dude "Just A Man" feat. Raphael Saadiq
Lucy Pearl "Without You" (J Dilla Remix #2)
Kelis "Marathon"
Raphael Saadiq "I Want You Back" feat. Teedra Moses
Raphael Saadiq "I Want You Back" feat. Teedra Moses (DJ B.Cause Remix)
The Roots "What They Do" feat. Raphael Saadiq
A Tribe Called Quest" Stressed Out" (Raphael Saadiq Remix)
Bizarre "Coming Home" feat. Raphael Saadiq & Kuniva
Raphael Saadiq "Body Parts"
DJ Quik "Well" feat. Raphael Saadiq & Mausberg
Joss Stone "Proper Nice"
Raphael Saadiq "Get Involved" feat. Q-Tip
Raphael Saadiq "Skyy, Can You Feel Me" feat. Rosie Kaye (Yam Who's Spiritual Rework)
Nappy Roots "Leave This Morning" feat. Raphael Saadiq
Raphael Saadiq "Big Easy"
Tony! Toni! Tone! "Let's Get Down" feat. DJ Quik
Raphael Saadiq "Detroit Girl"
Amp Fiddler "Faith"
Lucy Pearl "Don't Mess With My Man"
Raphael Saadiq "100 Yard Dash"
Raphael Saadiq "Faithful" (Disoriental Remix)
Mashonda "Ask Of You" feat. Raphael Saadiq
Raphael Saadiq "Ask Of You"
Real Live "All I Ask Of You (Commin' Thru)"
Raphael Saadiq "Be Here" feat. D'Angelo
Total "Kissin' You"
Snoop Dogg "Waste Of Time" feat. Raphael Saadiq
Jaguar Wright "Free" feat. Freeway
D'angelo "Lady"
Tony! Toni! Tone! "Whatever You Want"
Raphael Saadiq "Oh Girl"

The mix can be copped here. Thank you for your support!


Sunday, September 19



Flicks from Flashing Lights

Wednesday, September 17




Damn, can you say stacked? Tittsworth and Ayres' T&A label drops another batch of Baltimore club bombs on us, this time from a diverse cast which includes Hollertronix associate DJ Sega, Finland's Top Billin crew, Chi-town's Rob Threezy, and even the club legend himself, DJ Technics. Technics steals the show with two different versions of Radiohead's hazy "Everything In Its Right Place" - I think the "Supa mix" is the best of the bunch, but you can't go wrong with the instrumental "Beatdown mix" or the bonus digital-only "FX Mix." Titts gives AC/DC the club treatment ons "Thunderstruck," Jim Sharp fuses Jungle and Bmore on "Champion Junglist Sound," Threezy cuts up LTD's disco staple "Love To The World," and Top Billin gives "In The Ass" some nasty dubstep bass. - Van Hammersly, Turntable Lab



Buy the vinyl at Turntable Lab and fine record stores worldwide. Digital download available at Turntable Lab, iTunes,





New Weekly Party!



Free weekly! Flashing Lights at Public Assembly! Catchdubs, Jubilee and I take over the club formerly known as Galapagos every Friday to spin the best in house, techno, disco, bass, wobble, bleep whiz shebang.

Download Flashing Lights mix #1 by Ayres, Catch, and Jubilee. Tracklist here.


Wednesday, September 10



DJ Eleven has a new website up! Go there.


Monday, September 8

The Rub was named one of New York City's best DJ nights in New York Magazine.

"The D.J. trio and hip-hop historical society collectively known as the Rub have long since been a welcome local presence at a multitude of one-off parties, and they have their own program on BrooklynRadio.net. But their monthly Saturday-night jam at Southpaw, around since 2002, is still the trio's natural habitat. A no-pretense bash where Souls of Mischief, Digital Underground, and old-school Ice Cube rule the speakers? Damn, today was a good day."




Ian Meyer just sent over photos from The Rub and Flashing Lights


Monday, September 1



Here is a live set, recorded on tour with Bun B, August 2008: http://feeds.feedburner.com/~r/the-rub/~5/380833675/therub912008.mp3

I record myself a lot (internally using the Rane TTM-57) but I rarely put up live sets. For the Scion tours I usually work out some sets and then do things a little different each night, but do certain transitions that I like the same way each night. A few transitions like the DJ Kool / Jay-Z thing, and the Dr Dre into MOP, are things I've been doing since last year and should probably retire...

Anyhow this set is really two recordings from two different cities spliced together - part of a warmup set and then later on in the more hype part of the night. The edit point is "Mr. Scarface." I played a lot more Texas rap but it would be dumb to post that part of the set up because Houston for Dummies was the last podcast - http://feeds.feedburner.com/~r/the-rub/~5/361468364/HoustonForDummies.mp3

Tracklist: * ABN - In My City * Gorilla Zoe - I'm Dumb * Turf Talk - Bring the Bass Back * Big Tuck ft Slim Thug - Not A Stain On Me (remix) * Dead Prez - Bigger Than Hip-Hop * Jadakiss ft Styles P - We Gonna Make It * Puff Daddy - Bad Boy For Life * Jaylib - The Red * Bozo Meko - Spread Love * The Roots ft Wale - Rising Up * Lupe Fiasco ft Young Jeezy - Superstar * Scarface - Mr Scarface * Geto Boys - Mind Playing Tricks On Me * Tupac - I Get Around * Outkast - ATLiens * Cool Breeze ft Dungeon Family - Watch For the Hook * DJ Spinna - Everybody Bounce * Memphis Bleek - Do My * DJ Kool - Let Me Clear My Throat * Beyonce - Crazy In Love * Jay-Z - PSA * Jay-Z - Roc Boys * Kanye West - Champion * Bobby Byrd - I Know You Got Soul * Bobby Byrd - I'm Coming * James Brown - Get Up, Get Into It, Get Involved * 20th Century Steel Band - Heaven and Hell * Liquid Liquid - Cavern * Jim Dunloop and Marc Hype - The Mexican * LL Cool J - Jingling Baby * EPMD ft LL Cool J - Rampage * Busta Rhymes - Don't Touch Me * Busta Rhymes - Touch It * Kanye West - Stronger * Jay-Z - Encore * Kanye West - Touch The Sky * Dr Dre - Let's Get High * Dr Dre - Bitches Ain't Shit * Dr Dre - Next Episode * MOP - Ante Up * Nas - Made You Look

Subscribe to The Rub podcast here: http://feeds.feedburner.com/the-rub


More bloggery: Spring and Summer 2008

Spring / Summer 2009

Winter / Spring 2009

The Rub Best of 2008 Mix

RIP Freddie Hubbard

The Rub Holiday Party 2009 Pix

Tittsworth on Rub Radio

New EPs from Tittsworth and Meterhead

Pix from 12/08 Rub and Guggenheim After Dark

Cosmo and Eli present: BANG!

New Jams from Jake One and Laidback Luke/A-Trak

Quarter Water EP

Eleven Invades London

Bun B on Rub Radio

Halloween Pix + Rave-O-Ween Mix

New Scion Radio, New Brooklyn Radio

Ghetto Pass megamix by Top Billin

Cosmo Baker's Best of Raphael Saadiq

Flashing Lights pix

Ghetto Pass EP

DJ Eleven's New Website

New York Magazine loves The Rub

DJ Ayres Live Set Opening for Bun B

.