Friday, August 29



Cosmo Baker will be on tour with Redman September 14 - 17, with stops in Raleigh, Atlanta, Houston and Austin. For venue info at hit up www.cosmobaker.com

Download Cosmo's Redman mix, The Funk Doc Chronicles


Wednesday, August 27



This is a dope mixtape! Download (right click "save as")


Saturday, August 16

This week: DJ Ayres touring with Bun B backed by Orgone.



FREE SHOWS - RSVP MANDATORY
Aug 18 - Raleigh at Cat's Cradle
Aug 19 - Atlanta at The Loft
Aug 20 - Houston at Warehouse Live
Aug 21 - DJ Ayres & DJ Mel at Beauty Bar, Austin, TX *side gig, not with Bun B
Aug 22 - Austin at The Parish (with Bun B)

Got front, back, and side to side!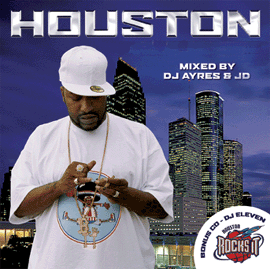 Download Houston for Dummies


Friday, August 15



Cosmo and Ayres went with the Smalltown DJs to Shambhala Festival in British Columbia last weekend. There were 10,000 hippies and ravers camping out in the woods, doing drugs and dancing. 6 stages, music 24/7, and amazing sound systems. Best. Rave. Ever.



The Fractal Forest during Ayres and Cosmo's set



The beach stage at about 10 in the morning.



Everyone wore costumes all weekend.



?

Ayres and the Scratch Bastid



Cosmo is always groovy


Music highlights were DJ Numark - one of the best hip-hop and classics sets we've seen in our lives - Smalltown DJs, Malente, Drop The Lime, Vinyl Richie, Hugs, Scratch Bastid, Flosstradamus, Neighbor, Wax Romeo, Fort Knox 5 and Ursula 1000.


Friday, August 8

This month on Rub Radio on Scion Broadband our radio show on Scion Broadband is full up with hip-hop!
We interview:



Amp Live (Zion I)



Sway Dasafo



Dan Greenpeace

Plus DJ sets from me, Eleven & Cosmo.
All right here: http://www.scion.com/channel2
Streaming only. Sometimes the stream can be a little buggy so if you can't hear anything, refresh, and if that doesn't work, try closing any applications that use lots of memory.
And don't forget to download Rub Radio from BrooklynRadio.net.


Friday, August 1>

The Rub has just released a handful of remixes and mashups on CrooklynClan.net!




Thursday, July 31

When hearing the Rub's It's The Motherfucking Remix series, listeners are treated to some '80s pop, freestyle, RnB and new wave. Who are/were some of your major influences?
Cosmo: "Black Sabbath, and nothing but Black Sabbath. There are no more influences on us."

The Rub interviewed on Killahbeez.net


Wednesday, July 30

Demarco - Excellent Hole (Gutterball riddim produced by Federation)


Tuesday, July 8



This month on Rub Radio on Scion Broadband we interview Kid Sister + Institubes: Surkin, Para One, Bobmo and Drop the Lime! If that's not enough, we also got an interview and DJ set from Sake One. And as always, Cosmo, Ayres & Eleven in the mix. And don't forget to download Rub Radio from BrooklynRadio.net; this week it's the best of Nas!


Monday, July 7



Pictures from The Rub 6 Year Anniversary



Pictures from The Rub June


Monday, June 30



On Brooklyn Radio, just another day in the life of a goddamn boss! DJ Ayres chucks new heatrocks by Ghostface, Hercules & Love Affair, Crookers, Kid Cudi and a whole lot more. Download / Podcast / Tracklist


Thursday, June 26



This afternoon catch DJ Ayres spinning records on Kurupt Radio - East Village Radio from 2PM - 4PM!

Tuesday, June 24



Can You Dig It? interviews on digging for records:

DJ Ayres
DJ Eleven
Cosmo Baker

Thursday, June 19



The Rub is featured this month in JUICE Magazine, the best hip-hop periodical in Germany. Photo by Ian Meyer.
Click for PDF


Monday, June 16



The good folks at Brooklynradio.net just put up a mix of new reggae by DJ Eleven. Check it & all kinds of other Rub related madness at http://www.brooklynradio.net/the-rub.


Saturday, June 7

Promo MP3s for the new Royalty EP are up on Discobelle - go get em!


Friday, May 30

Two new records from The Rub and T&A:



In the tradition of Afrika Bambaataa's Death Mix, The Rub's Party Medleys are crucial ammo for the working DJ's record bag. Each side features two medleys stitched together, giving DJs enough time to switch out laptop between Serato sets, get that much-needed bathroom break, order a drink, smoke a cigarette or have a quickie and still make it back before the record runs out. Both sides are sure to keep the party going, quick-mixing hits by Jay-Z, Jermaine Dupri, DMX, Rob Base, 45 King, Slick Rick, Biz Markie, Ginuwine, Chris Brown, Ciara, Ghost Town DJs, A-Town Players, Soundmaster T, Splack Pack, Luke Skywalker and 2 Live Crew. This volume features club rap, classic hip-hop, r&b and booty bass themed medleys. Limited pressing.
buy it at Turntable Lab



The Royalty EP is the debut collaboration between Baltimore's premier club label since 1994, Unruly Records, and the youngest in charge, Tittsworth and Ayres' T&A Records. Club King DJ Technics sets it off with "What Not What," a brand new update on the classic Lil Jon "What" Bmore staple, juicing it up with regal horns and synths. Tittsworth ups the ante with a rowdy remix of M.O.P.'s classic, and Baltimore OG Scottie B. flips Dilla-era ATCQ on "Find A Way," cleverly swinging the tempo down from club to hip-hop and back up to club. Brick City's DJ Tameil smooths it out, chopping Kelly Price and infusing her with a bit of ESG on "Bump Like This." Birmingham's Bamabounce - no stranger to the T&A fam - mashes Say Wut's horns into an insane fight anthem, urging you to "Punchemindaface." Ayres takes the same vocals and chops the hell out of Slayer's evil guitars, creating quite possibly the hardest club record of all time.
buy it at Turntable Lab


Thursday, May 29

There is an article in the New York Times today about our friend ESPO:



Still Painting on Buildings, But No Longer A Vandal

A love of graffiti has gained Steve Powers notoriety on the streets, fame in the art world and a long arrest sheet. It has also earned him a Fulbright scholarship.
read more



The Rub Logo 2 by ESPO



T&A Breaks cover by ESPO



For more, check out ESPO's books on Amazon.com


Wednesday, May 21

DJ Ayres Tour Dates:

Friday, May 23 @ Wrong Bar
1279 Queen Street West, Toronto, ON

Saturday, May 24 @ Hi-Fi
108 Osborne, 2nd Floor, Winnipeg, MB

Sunday, May 25 @ Pink
2925 16th Street, San Francisco

Monday, May 26 @ Hi-Fi Club
219 10 Avenue SW, Calgary, Alberta

Tuesday, May 27 @ Republic
958 Granville St., Vancouver, BC


Tuesday, May 20

DJ Eleven is going on tour with Too $hort! The shows are free but you have to RSVP to get in. Click on the following links to get on the guestlist:
RSVP for Minneapolis, Monday May 26
RSVP for Chicago, Tuesday May 27
RSVP for Columbus, OH, Wednesday May 28
RSVP for St Louis, Thursday May 29



If you missed it, be sure to cop DJ Eleven & Matthew Africa's "Dirty Raps - The Best of Too $hort" double CD. Available at Turntable Lab and bootleggers worldwide.


Monday, May 19



This month's guest on Rub Radio is DJ Mel! LISTEN


Thursday, May 8

Andrew Andrew interviews The Rub
on such topics as Andy Rooney, Space Needles, Penn & Teller and Mario Kart


Wednesday, May 7



Chino and Reas's Mascots and Mugs traces the history of the character in graffiti from the early days to now. It is being called the best graff book since Subway Art. Chino has a new book with Sacha Jenkins (Ego Trip) called Piecebook, which we're excited to pick up.

Also wildly interesting is Chino's Blog, where he posts everything from graffiti-related news to robot dogs to Sean Bell to fish that live in subway cars!


Sunday, May 4



Photos from The Rub, May 2008


Tuesday, April 29

the best album of the year so far, Santogold, comes out today! If you saw Santi with The Rub and Spankrock at the McCarren Pool party, or on Conan O'Brian last night, or saw her video on MTV2 or heard her music on Hot 97 or BBC Radio1, you already know. Honestly if you like music at all you need Santogold in your life, I cannot stress this enough! Watch and listen here, then go see Santogold perform tonight at Virgin Megastore in Union Square at 7PM, and buy the CD.







Friday, April 25



Flicks from The Rub April with the Honorable DJ Caps and Kool Kear


Friday, April 18

Party joints from DJ Ayres:

Three 6 Mafia x DJ Deeon - Gimme Head (DJ Ayres remix)
Switch x Fedde La Grande - Put Your Hands Up For Apache (DJ Ayres party edit)
Tittsworth - Ante Up (DJ Ayres 'Up The Tempo' edit)

Ding Dong x Midfield Generals - Badman Sirens (DJ Ayres edit)
Enur & Natasja - Face Down Ass Up / Calabria (DJ Ayres party break)
Paul Johnson x High Powered Boys - Get Down (DJ Ayres edit)


Wednesday, April 16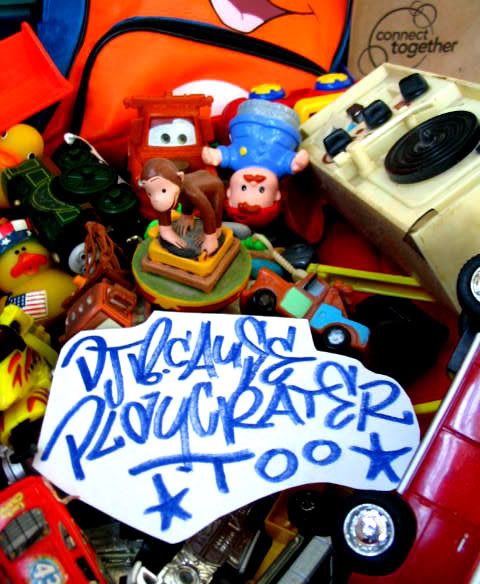 Here's a great mix from San Francisco's B.Cause, free for you! http://www.zshare.net/audio/8343369622ed2f/
Tracklist


Wednesday, April 9

Couple of new Baltimore-Not-Baltimore releases from Ayres & Tittsworth and friends:



Tales from Top Billin 2!

The second remix EP by our Finland-ian brethren Top Billin is out now! DJ Ayres "Work It" is on there along with a bunch of other Baltimore Club bangers.
Here are half the songs as 128k MP3s for the iPod; be sure to buy the record at Turntable Lab or your neighborhood record store:
DJ Ayres: Work It
Top Billin: Do You Wanna Party
DJ Anonymous: Nothing But A Party

Also:



The first single off of Tittsworth's album is out now on 12" featuring remixes by DJ Assault and The Glass. Cop that at Turntable Lab too!


Tuesday, April 8



THE RUB EUROPEAN TOUR - COSMO BAKER & DJ ELEVEN
Thursday, April 10 Blaa - Oslo, Norway
Friday, April 11 Redrum - Helsinki, Finland
Saturday, April 12 Berns - Stockholm, Sweden
Thursday, April 17 The Art School - Glasgow, Scotland
Friday, April 18 Die Registratur - Munich, Germany
Saturday, April 19 Hundertmeister - Duisburg, Germany
Thursday, April 24 Solyanka - Moscow, Russia
Friday, April 25 Niedklub - Hamburg, Germany
< Saturday, April 26 93 Feet East - London, England

Additionally:

Our Fool's Gold buddies are touring North America!

"Bloody Murder Flyer" by Thunder Horse

YUAAEEEEGGHHHHAAAAAAARRRHH
"The Fool's Gold x Dim Mak "Screaming Bloody Murder" North American tour kicks off this Thursday, and in case the above trailer by Thunder Horse didn't make it crystal clear, we are coming to your town to EXPLODE YOUR BRAIN. Live deejay musics from…A-Trak! Sinden! Steve Aoki! Sammy Bananas! Special motherfucking guests! Opening night is on 4/10 at Hiro Ballroom in NYC (check this FBI flyer courtesy of Mark Cobrasnake, who will be at Hiro snapping away), followed by bashes in Toronto, Montreal, Philadelphia, Chicago, Vancouver, Seattle, and San Francisco."

We couldn't have said it any better ourselves.


Tuesday, April 1



WMC 2008 Photos by Ian Meyer - Hanging out in Miami Flicks / The Rub Party Flicks


Monday, March 31

3 is the magic number! DJ Eleven has 3 new mixtapes available now at Turntable Lab:



DJ ELEVEN - I LOVE SOUL



DJ ELEVEN - JA GOODS #2



DJ ELEVEN & THE CATARACS - KIDS



While you're at Turntable Lab be sure to cop Tittsworth & Ayres's new T&A compilation, Balmer Loosies 2 (now available as a Digital Download or CD)!

FREE DOWNLOAD:



This week on Brooklyn Radio - The Rub Up (Part 1)

WMC Photos coming soon!


Monday, March 24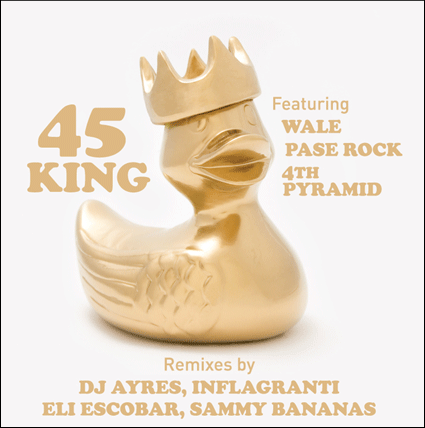 Bunch of new music up: Download the Zip File

1. 45 King vs. Wale - Roof
2. 45 King vs. Wale – Roof (DJ Ayres Remix)
3. 45 King vs. Wale – Strings
4. 45 King vs. Wale – Strings (In Flagranti Remix)
5. 45 King vs. Pase Rock –The 900 Number (2k8)
6. 45 King vs. Pase Rock – The 900 Number (2k8) (Eli Escobar Remix)
7. 45 King vs. 4th Pyramid – P-Y-R-A-M-I-D
8. 45 King vs. 4th Pyramid – P-Y-R-A-M-I-D (Sammy Bananas Remix)




http://therub.crewcial.org/history/TheRub1999.mp3

Brooklyn Radio is fixed - get the 1999 tracklist there!

Bonus: Re-Up on the Beatminerz House set from The Rub 2006 Loft Party


Friday, March 21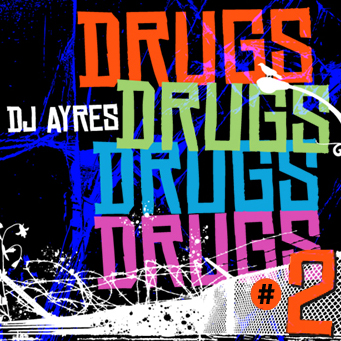 http://therub.crewcial.org/history/More%20Drugs.mp3

After finishing the Hip-Hop History 90s mixes, I wanted to get back on some fast shit because it's been a minute and there's so much good new stuff out. Doing this mix got me pumped up for Winter Music Conference! Please enjoy responsibly.
Juan Maclean - Happy House
Metro Area - Erodyne
A.S.S. - House Bells
Bag Raiders - Nil By Mouth (Knightlife Remix)
Surkin - White Knight 2
Steve Angello and Laidback Luke - Be (Laidback Luke Rave Edit)
DJ Tameil - Bump Like This
Say Wut - NFL Horns
Million $ Mano - They Know
Jim Sharp - Champion Junglist Sound
Fully Fitted - Roll It
Bladerunners - Champ
Charlean Dance - Mr DJ (Speaker Junk Remix)
King Tutt - The Future
Larry Heard Presents Mr White - The Sun Can't Compare
Juan Maclean - Happy House (reprise)
One Hand Loves The Other - Tortoise (Treasure Fingers remix)
Shouts out to Tittsworth, Catchdubs, Alex XXXChange, Scottie B, Eli, Mano, Tameil, Trevor Loveys, DJ Haul, Darshan, Treasure Fingers and 7L from the Bladerunners for the music! And be on the lookout for They Know, Champion Junglist Sound, and Bump Like This on T&A Records.

Wednesday, March 19



Pictures from SxSW


Monday, March 17


This month on Scion Broadband, we got special guest host DJ Nick Catchdubs. Setting the bar real high for banter and records, the owner of Fool's Gold is a modern day rennaisance man, so pay attention! Yall know the deal by now: streaming 24/7, no downloads (sorry), up for a month or so then we got a new show coming featuring the one Max Glazer.


Friday, March 14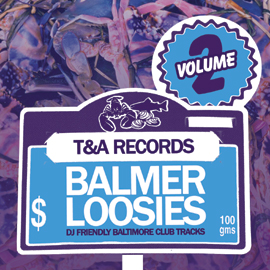 New from T&A Records! Balmer Loosies 2 is an unmixed compilation of Baltimore Club hits from DJ Ayres, Tittsworth, A-Trak, Top Billin, Million $ Mano, DJ Dub, and DJ Eli. Unmixed for DJs!
Get the CD at Turntable Lab or direct at DJ Ayres's webstore. Digital downloads available at Gigacrate.com.


Monday, March 10



The Rub's History of Hip-Hop is back with a brand new show, 1998 mixed by DJ Ayres. Download / Stream / Tracklist


Sunday, March 9

BROOKLYN RADIO FIXED!
(sort of)



Get all the Rub Radio shows before we crash their servers again!
And here are all the shows mirrored on Crewcial.org (Thanks Ian!):

http://therub.crewcial.org/history/TheRub1990.mp3
http://therub.crewcial.org/history/TheRub1991.mp3
http://therub.crewcial.org/history/TheRub1992.mp3
http://therub.crewcial.org/history/TheRub1993.mp3
http://therub.crewcial.org/history/TheRub1994.mp3
http://therub.crewcial.org/history/TheRub1995.mp3
http://therub.crewcial.org/history/TheRub1996.mp3
http://therub.crewcial.org/history/TheRub1997.mp3
http://therub.crewcial.org/history/TheRub1998.mp3


Sunday, March 2



Pictures from The Rub


More bloggery: Jan-Feb 2008

The Rub Party & Tour Dates .