Sunday, February 24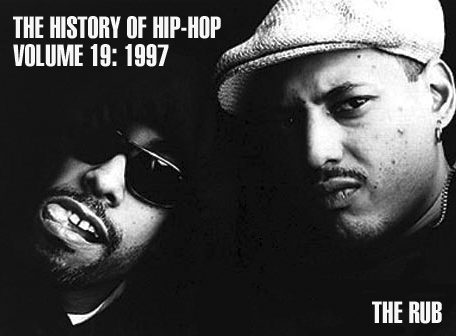 Putting the Beatnuts on our History of Hip-Hop postcard for 1997 is sort of like when the academy awarded Scorsese the Oscar for The Departed. Sure, the Beatnuts finally scored a radio hit with Off The Books in 1997, but by then hip-hop fans had been bumping them for years! But of course in the late 1990s it had only started to become possible for underground rappers to get big radio hits. It was an incredibly exciting time for hip-hop: lyricism was still in fashion but money rap was popping off as well, the whole East Coast vs West Coast war was cooling off after the murders of Tupac and Notorious BIG, meanwhile No Limit and Cash Money were rising to the top down South and the Fat Beats indy movement was providing a space for terrific alternatives to commercial rap. But let's hear DJ Eleven tell the story through records!

Stream
Download


Saturday, February 23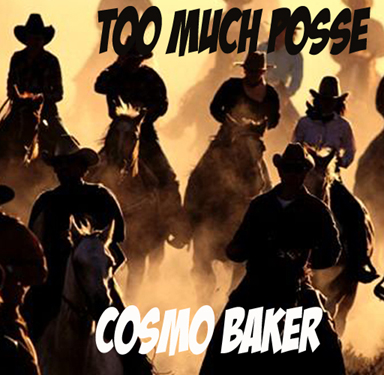 New Cosmo Baker mix free for download! "Back in the days there used to be a certain formula to doing albums - meaning there were distinctive types of records that you just had to put on your album. There was the single, the rap for the girls, the club (or hip-house) jam, the DJ cut, the slow jam, the reminisce record, the shout out dedication song at the end of the record, the list goes on and on. But for the record my favorite type of record was the posse cut. This was the record where the artist would invite some of his boys to drop verses on a song, and the end result ended up sounding like the best rap party ever. Sometimes it was a crazy combination of rappers that you would never think would even bless the same city, much less the mic. Sometimes it would end up being the jump start to a legendary career. Whatever it would be, the posse cut always brought the fire.
Here is a collection of some of my favorite posse cuts of all time. The initial list I had was much longer but in the end I had to trim it down. I had to make sure that (for the most part) the entire song played on this mix - I didn't want to leave anyone out. So here it is - let's go!" - CB
download
tracklist


Thursday, February 21



New DJ Ayres on GAMM records straight out of Sweden! Cop the vinyl at Turntable Lab and fine record stores all over the US and Europe. Preview the track here: James Brown - Give It Up Or Turn It Loose (DJ Ayres Remix) REAL AUDIO


Tuesday, February 19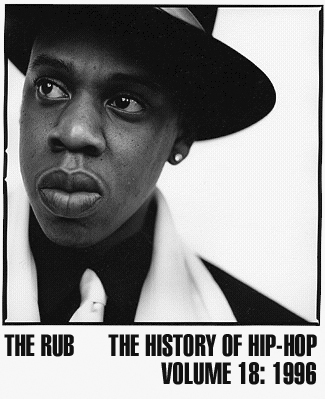 1996 is up!

Stream
Download

I was truly psyched about doing 1996 because that was a very special year for me and it had a lot of impact. I had just moved back to Philly from New York (proving, at least for the time being, that nobody moves away from New York - they just "fail.") I was back in my hometown with no prospects and really nothing going for me. Over the past 18 months I had been living in New York and had been working in Eightball Records, fully involved in the downtown hip-hop scene. 1995 was such a good year for hip-hop (especially the New York-centric type) and I was at the epicenter of it all. Now I didn't really know what to do with myself. I had resumed classes at Temple and then got a job at Armand's records.
Before I knew it was at the middle of it again and, for the first time in a while, independent records really started to make a lot of noise. Being a buyer at Armand's definitely helped with that, and I got the chance to get my hands on pretty much all this new shit that nobody had heard of. I started to deal with Peanut Butter Wolf (he was still just a buyer at TRC Distribution in California) so I would get all this crazy California indie shit. Then, I re-linked up with my man Jared and started to help him with his record label, Illadelph Records. I went from being a "soundboard" for ideas for him to a semi A&R status to one of the in-house producers and a member of the Militant Mind State very shortly.
I also started to DJ again in Philly. The last residency I had was with King Britt and Dozia at Back To Basics but I left that behind. But I started again with a Monday night at Cafe Limbo playing all sorts of indie shit as well as funk and whatnot. Before I knew it, I got a call about a new club opening up, The Palmer, and they wanted me to spin there. I went from 1 night a week 2 5 within a couple months.
So yeah, 1996 was a year or rebirth for me. It was also a very good year in music. This mix was a labor of love but it was particularly hard for me to do, in particular because there was so much great stuff that came out that year that I wanted to put on. It was so hard to pick and choose what to use from "Stakes is High," "Reasonable Doubt," "All Eyes On Me," "ATLiens," "The Coming," "Beats, Rhymes & Life," "Endtroducing," "Riding Dirty" - the list goes on and on. And that's not even including the indie shit. So I hope I did this year justice.
Also, 1996 was the year that Dilla REALLY made an impact on me. It was '96 that I said to myself "This motherfucker right here is the REAL DEAL."
Anyways, with that, I present 1996. I hope you enjoy listening to it as much as I enjoyed making it!"
- Cosmo Baker

Sunday, February 17



Cosmo Baker goes out on the road this weekend with Brand Nubian! The shows are free in Austin, Houston, Atlanta and North Carolina. Click here for mandatory RSVPS.

Friday, February 15


We got an interview with the Iron Man aka Tony Starks aka Pretty Tony from the Group Home plus Cosmo spinning an hour of all Wu-Tang, Eleven running through a ton of new dancehall and me playing a gang of new hip-hop and classic funk. Yall should know the deal by now: streaming 24/7, no downloads (sorry), up for a month or so then we got a new show coming featuring the young Catchapotomus. Listen

Wednesday, February 13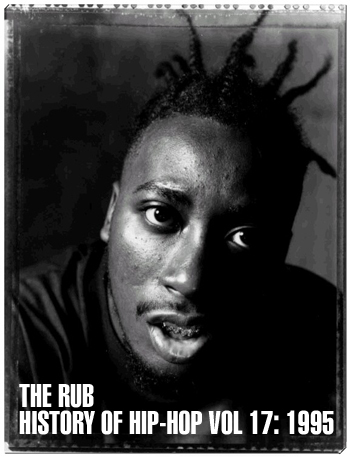 1995 is up! This might be my favorite year in hip-hop history and Cosmo went in real heavy. The thirty five cents short on my two for five overlooker! Straight like that, 1995.
1. Real Live "Real Live Shit"
2. Smooth Da Hustler "Broken Language" feat. Trigger The Gambler
3. Luniz "I Got 5 On It"
4. Mic Geronimo "Masta I.C."
5. Q-Ball & Curt Cazal "My Kinda Moves"
6. J-Live "Braggin' Writes"
7. The Nonce "Bus Stop"
8. B.U.M.S. "Elevation (Free My Mind)"
9. Smif N Wessin "Sound Bwoy Bureill"
10. The Click "Hot Ones Through The Ghetto"
11. Kool G Rap "Take "Em To War feat. MF Grimm"
12. Lord Finesse "No Gimmicks" Brainstorm Remix feat. O.C.
13. Mobb Deep "Temperature's Rising"
14. Mobb Deep "Temperature's Rising" (The Abstract Remix)
15. Das EFX "Microphone Master" (DJ Spinna Remix)
16. Junior M.A.F.I.A. "Players Anthem"
17. Blahzay Blahzay "Danger (When The East Is In The House)"
18. Mad Skillz "Skillz In '95"
19. Organized Konfusion "You Won't Go Far" feat. O.C.
20. Ten Thieves "It Don't Matter"
21. Black Moon "Headz Ain't Ready" (Remix feat. Smif N Wessin)"
22. Ahmad "Come Widdie feat. Ras Kass & Saffir"
23. Jay-Z "Can't Get Wit That"
24. The Roots "Silent Treatment" (Kelo's Remix)
25. Ill Al Scratch "Don't Shut Down On A Player"
26. Lost Boys "Lex Coups, Bimaz & Benz"
27. GZA "4th Chamber"
28. GZA "Liquid Swords"
29. Big L "Put It On"
30. Artifacts "Dynamite Soul (Lip Service Remix feat. Mad Skillz)"
31. KRS One "MCs Act Like They Don't Know"
32. Group Home "Up Against The Wall (Low Budget Mix)"
33. Group Home "The Realness"
34. Roxanne Shante "Queen Pin"
35. AZ "Sugar Hill" (Remix)
36. Showbiz & A.G. "U Know Now" (Buckwild Remix)
37. Da Youngsta'z "I'll Make You Famous"
38. Ruggedness Madd Drama "Make U Go Crazy"
39. World Renoun "Come Take A Ride"
40. Notorious B.I.G. "One More Chance" (Stay With Me Remix)
41. Notorious B.I.G. "One More Chance" (Hip-Hop Remix)
42. Common "Resurrection" (Large Professor Remix)
43. Common Ressuerction" (Extra P Remix)
44. D&D All-Stars "1, 2 Pass It"
45. Shabazz The Disciple "Death Be The Penalty"
46. Raekwon The Chef "Ice Cream"
47. Method Man "I'll Be There For You / You're All I Need To Get By feat. Mary J. Blige" (Razor Sharp Remix)
48. Bahamadia "Uknowhowwedo"
49. Junior M.A.F.I.A. "Get Money" (Remix)
50. Junior M.A.F.I.A. "Get Money"
51. Notorious B.I.G. "Who Shot You?"
52. 2Pac "Me Against The World"
53. Young D Boyz "Keep On Poppin' The Dope Track"
54. Broadway "Must Stay Paid"
55. Lost Boyz "Lifestyles Of The Rich And Shameless"
56. Outkast "Benz Or Beamer"
57. Da Bush Babees "Remember We" (Salaam Remi Remix)
58. GZA "Shadowboxing" feat. Method Man Redman & Method Man "How High"
59. Das EFX "Real Hip-Hop"
60. Fat Joe "Shit Is Real" (DJ Premier Remix)
61. Crooklyn Dodgers '95 "Return Of The Crooklyn Dodgers"
62. Big Noyd "Recognize & Realize"
63. Mobb Deep "Give Up The Goods (Just Step)"
64. Keith Murray "I Get Lifted"
65. Sadat X & Akinyele "Loud Hangover"
66. Ol Dirty Bastard "Brooklyn Zoo"
67. Mad Skillz "The Nod Factor"
68. Grand Puba "I Like It (I Wanna Be Where You Are)"
69. LL Cool J "Doin' It"
70. Pharcyde "Runnin'
71. The Dove Shack "Summertime In The LBC"
72. The Alkaholiks "Daaam!" (Buckwild Remix)
73. Jurassic 5 "Unified Rebellion"
74. Funkmaster Flex "Nuthin' But Flava" feat. Charlie Brown, Ol Dirty Bastard & Biz Markie
75. Lords Of The Underground "What I'm After" (Sir Charles Mix)
76. Ol Dirty Bastard "Shimmy Shimmy Ya" Rakim "Last Resort"
77. Mobb Deep "Shook Ones Pt. 2"
78. E-40 "Sideways" feat. B-Legit
79. Tha Alkaholiks "The Next Level"
80. Nine "Whucha Want?"
81. Rude Riddim Experiment "Everybody Bounce"
82. Doug E. Fresh "Where The Party At?"
83. Bone Thugs N Harmony "First of The Month"
84. TRU "Bout It, Bout It"
85. Three 6 Mafia "Tear The Club Up"

Tuesday, February 12



DJ Eleven is on a North American rampage! Catch the tall guy with glasses rocking it from Las Vegas to Vancouver to Toronto and everywhere in between. Dates at myspace.com/deejayeleven


Thursday, February 7
Brooklyn Radio interviewed us about the Hip-Hop History series: how it's made, our motivations, reminisces from the 90s, our favorite MCs and producers, and a whole lot more. You can read that here.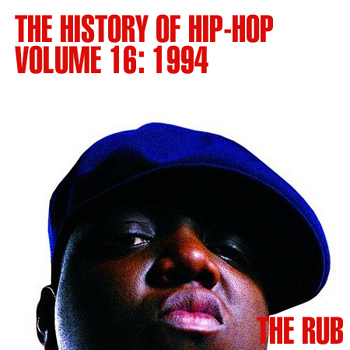 This week we bring you two hours of the finest rap music from 1994. Mixed by DJ Ayres. Enjoy!

Stream
Download



Tuesday, February 5



Pictures from The Rub - Saturday, Feb 2


Monday, January 28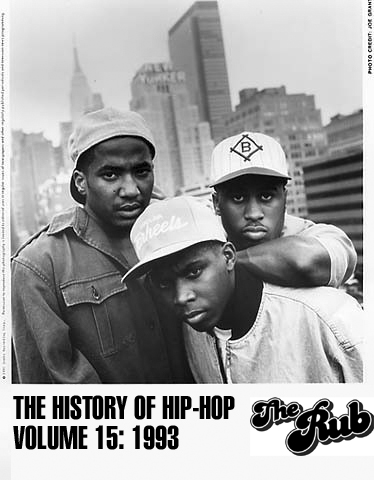 Every week we hit you with another year - this week we stepped up to the plate and knocked it out the box! 93 was the year of "Enter the 36 Chambers," "Midnight Marauders," "Intoxicated Demons," "Bacdafucup," "Enta Da Stage," "Doggystyle," "Buhloone Mind State," "Return of the Boom Bap" and so many other classic albums. Mixed by DJ Ayres. Enjoy!

Stream
Download



Friday, January 25

Three big releases debuted on iTunes this week: I Like Make Dance, Kick Out the Jams and The Chedda EP. . For the DJs, get the high quality WAVs or MP3s from Turntable Lab: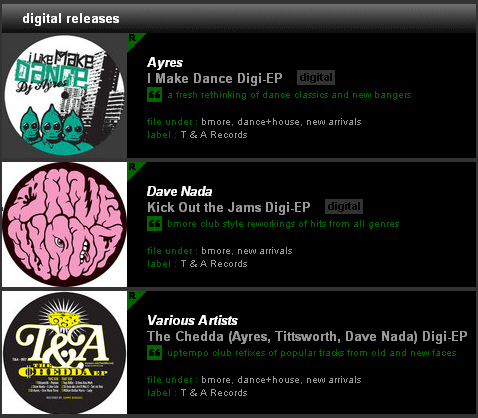 Digital Downloads: I Like Make Dance, Kick Out the Jams, Chedda
Vinyl: I Like Make Dance, Kick Out the Jams, Chedda


Tuesday, January 22



Hip-Hop History continues with 2 hours of bangers from 1992, mixed by DJ Eleven!
Stream at BrooklynRadio.net


Tuesday, January 15

Veronika and Ayres are proud to announce the birth of Nina Zielinska Haxton! She came a little early but she's beautiful and healthy so she'll be able to come home as soon as she gets her weight up a little.





Wednesday, January 9

Brand New from me and Tittsworth's T&A label: The Chedda EP is the number one record on Turntable Lab, while Tittsworth's new solo joint The Afterparty is holding it down at number two and my solo joint I Like Make Dance is number three. Tittsworth, Klever and I will be rocking at Studio B this Saturday night. Total domination!


Satellite Radio listeners, be sure to check out the T&A label showcase on XM digital radio this week on the In-Deed show: Wednesday at 10pm ET, with encores: Thursday at 2pm ET and Friday at 6am ET. Big up Gavin for making it happen!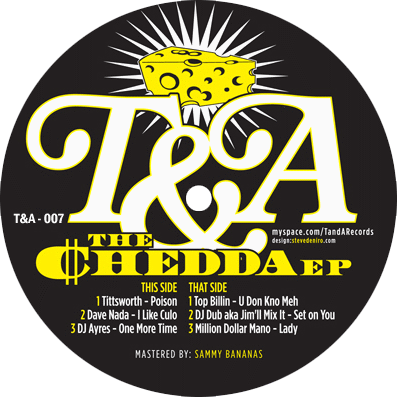 Brand new on vinyl! The Chedda EP, featuring cheesey club hits remixed by Tittsworth, Ayres, Dave Nada, Top Billin (Helsinki), Million $ Mano (Chicago) and DJ Dub (London). Buy it now at Turntable Lab!



DJ Ayres I Like Make Dance EP out on Vinyl now! Digital EP available on Gigacrate.com. New remixes of Black Box "Everybody Everybody," Twista & Pharrell "Give It Up," Lidell Townsell "Nu Nu," 4 Hero "Mr Kirk's Nightmare" and Masters at Work "Work." Vinyl includes bonus Kid Sister - Pro Nails remix


Monday, January 7



What's good, y'all. We're back at it again, and I'm pleased to say that we've picked up our "History Of Hip-Hop" series again this year.
We started the series with 1979 and took you on a journey though the first decade of hip-hop as seen through the eyes of The Rub. In no way is this to be considered a "Best Of" but more of a collection of personal favorites and songs that we feel really represented the year properly. But guaranteed you will be getting some of the best hip-hop songs ever created.
And so with no further hestiation, let's get to it!
Stream at BrooklynRadio.net / Download (Right Click "Save Target As")

Go to our Radio Page to download the first 11 years of Hip-Hop History, from 1979 - 1989.


Tuesday, January 1



Pictures from The Rub New Year's Eve by Ian Meyer



More bloggery: July - December 2007

The Rub Party & Tour Dates .