FOTR this week is Prince Klassen. He's a regular guest at The Rub and a top shelf FOTR if there ever was one. He moved out of NY at the end of 2016 and there was a short time where it was unknown if he was going to maintain his presence out our monthly event at The Bell House. Thankfully, things have settled in on a bit of normalcy and Prince Klassen has been a part of almost every Rub party so far in 2017. With his regularly scheduled monthly visits now, he's been playing other parties and keeping up with his Wild Combinations Mix series out at Lot Radio. Check out his most recent mix below and click on some of his socials to keep tabs with our bud.
Stay Up With Prince Klassen:
Facebook
Twitter
Instagram
Mixcloud
---
FOTR this week is Prince Klassen as he's one of our guests on NYE at The Bell House and he's been a resident with us there for a solid minute now. He was so kind to deliver us 3 categories of his "Records of The Year". Peep some wonderful music below.
---
Here's my mellow Prince Klassen's latest mix; I'll let him tell you about it: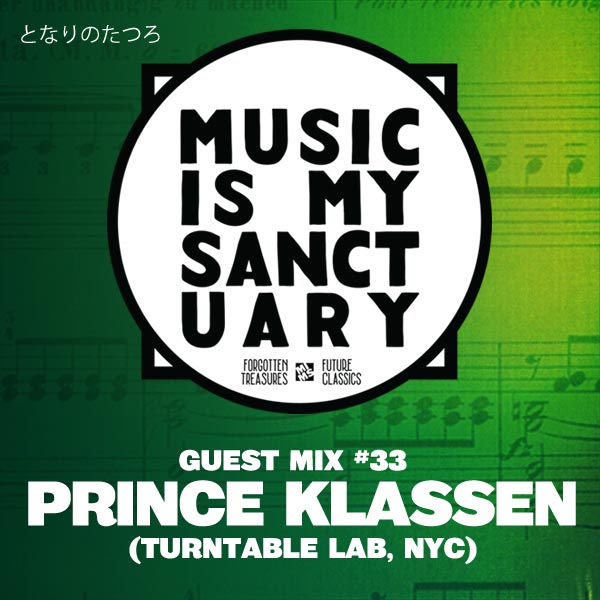 MIMS Guest Mix: PRINCE KLASSEN (Turntable Lab, NYC) by Music Is My Sanctuary on Mixcloud
Hey everyone,
Hope all is well. I wanted to send over the first part of my latest DJ mix series that I am very proud of. The mix is made up entirely of the works of Japanese super musician 
Yamashita Tatsuro 
and this first volume was made specially for 
Music Is My Sanctuary
. Most are familiar with his hits 'Merry Go Round' or 'Dancer' and while I love those songs, I wanted to go a little deeper into his catalog as a solo artist and a studio artist.
That said となりのたつろ pt.1 features solo, studio, and cover work all praising the legendary Japanese musician. The mix spans from doo wop to boogie, reggae to city pop soul & a ballad for good measure. All genres Tatsuro has surely rekindled in his long and prolific career.
Please feel free to share amongst your friends and I hope you enjoy it!
---