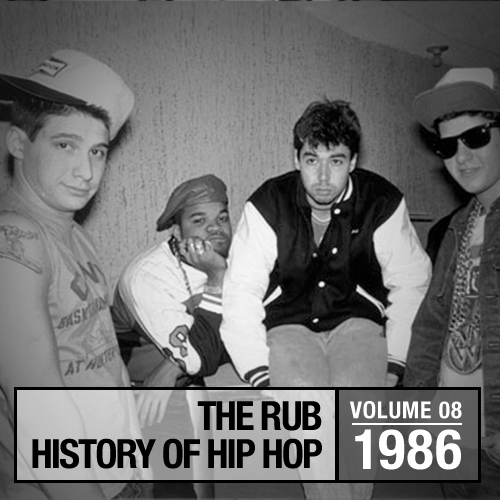 TBT this week is the History of Hip-Hop mix for we did for 1986. It's crazy to think this mix now references music that's three decades old. Music featured here from legends like The Beastie Boys, Run DMC, King Tee, Eric B. & Rakim, Kool Moe Dee and more still sounds as fresh as it did 30 years ago. Shouts again to our friends at Brooklyn Radio for re-upping all of this mixes to Hearthis.at, which allows streams and downloads directly. Streaming for both Hearthis.at and Mixcloud are below along with a link to a direct DL. Make sure and also revisit the whole series HERE.
The History of Hip Hop 1986 by Brooklyn Radio on hearthis.at
Download: History of Hip-Hop 1986 (right-click, save as)
Artwork by Rhek for Sharks and Hammers
Tracklist after the jump!
The Beastie Boys – Posse In Effect
Joeski Love – Pee Wee's Dance
Rodney O & Joe Cooley – Everlasting Bass
Eric B. & Rakim – My Melody
Sweet Tee & Jazzy Joyce – It's My Beat
Boogie Down Productions – South Bronx
MC Shan – The Bridge
Original Concept – Knowledge Me
Kool Moe Dee – Go See the Doctor
Salt 'N Pepa – My Mic Sounds Nice
King Tee – Payback's A Mutha
Run DMC – Dumb Girl
Ultramagnetic MCs – Ego Trippin
Just Ice – Cold Getting Dumb
Eric B. & Rakim – Eric B. For President
Biz Markie – Make The Music With Your Mouth Biz
Stetsasonic – 4Ever My Beat
Heavy D – Mr. Big Stuff
Kool G Rap – It's A Demo
Steady B – Bring The Beat Back
Word Of Mouth feat. DJ Cheese – Coast To Coast
The Beastie Boys – Time To Get Ill
Run DMC – Peter Piper
Dj Jazzy Jeff & The Fresh Prince – Live At Union Square
---