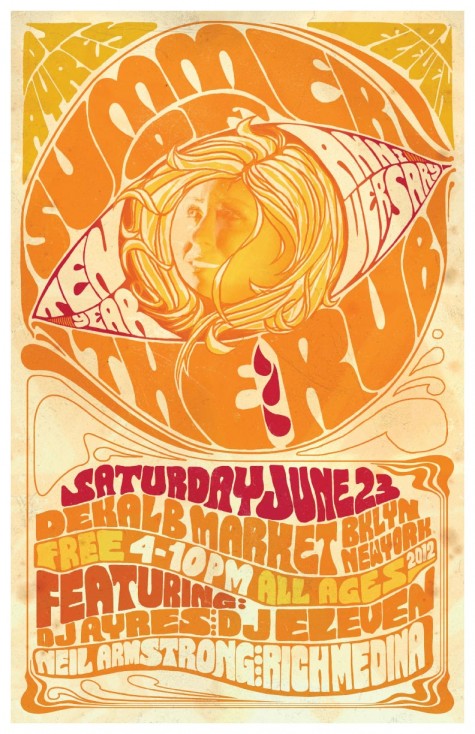 "Summer of The Rub" is officially here!!!! What better way to get this celebration started than releasing a new mix as apart of our buds over at Fool's Gold Records' "Foolcast" Podcast series?
Our kick-off party is this Saturday at Dekalb Market and it is going to be an absolute throwdown. We're bringing out the big guns with DJ Neil Armstrong as well as Rich Medina to ensure your evening becomes a sweaty sing-a-long.
As for the podcast, well this is not your typical mix at all.
DJ Ayres explains: "There is a grocery store in Brooklyn called Food Town where they have a station that plays tons of 60s music and there is a lot of overlap with Vietnam movie soundtracks from when we were kids, like Platoon, Full Metal Jacket and the TV show Tour of Duty (its opening credits were to Paint it Black by the Stones). It's a weird filter but it's really powerful music. So anyway we came up with a big list and then narrowed it down to 1967-1973, took out the obvious "UBB Rock Breaks" (In-a-Gadda-Da-Vida) and the stuff which was too soft (Strawberry Letter 23), then we each mixed for 30 minutes and boom! Summer of The Rub Foolscast!"
Go download it (right click + save link) or stream it over HERE. Make sure you subscribe to Fool's Gold "Foolcast" cause these guys are light years ahead of the curve with their artist curations.
Tracklisting after the jump:

The Rub (Ayres & Eleven) – Summer of The Rub
1. Rolling Stones – Paint It Black
2. Cream – White Room
3. Jimi Hendrix – All Along the Watchtower
4. Sly & The Family Stone – I Want to Take You Higher
5. Flaming Ember – Gotta Get Away
6. Rare Earth – I Just Want to Celebrate
7. The James Gang – Funk #49
8. Steppenwolf – Magic Carpet Ride
9. The Doors – Peace Frog
10. The Doobie Brothers – Long Train Running
11. Stealers Wheel – Stuck in the Middle With You
12. The Beatles – Glass Onion
13. T.Rex – Bang A Gong (Get It On)
14. The Zombies – Time of the Season
15. The Rolling Stones – Sympathy For The Devil
16. Jimi Hendrix – Crosstown Traffic
17. Erma Franklin – Light My Fire
18. Eric Burdon and The Animals – Good Times
19. The Temptations – Psychedelic Shack
20. Sly & The Family Stone – You Can Make It If You Try
21. The Doors – Break On Through (To The Other Side)
22. Led Zeppelin – Whole Lot of Love
23. The Turtles – Happy Together
24. Santana – Jingo
---